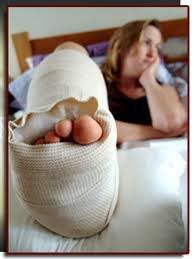 If you have been injured, and you believe that the injury is the result of negligence or wrongdoing, and not your own, you maybe want to contact an injury attorney. An injury attorney is a lawyer whose specialty is to represent individuals in court who have been injured because of the negligence or wrongdoing of another person, company, or other organization. The injury can be physical or psychological in nature. An injury attorney is also referred to as a "trial lawyer" or sometimes as a "plaintiff lawyer". An injury attorney will represent you in court with the intention of getting a settlement from the proponent of your injury. The settlement is intended to compensate for the losses due to your injury such as medical expenses, loss of earnings, and legal costs. Hiring an injury attorney and going to court can also prevent similar injuries from happening to others in the future.
Some examples of situations in which you would almost definitely benefit from the help of an injury lawyer: a long-term or permanently disabling injury; a severe injury; medical malpractice; and toxic exposure. A long term or permanently disabling injury, from an accident caused by another person or party, could hinder you from being able to work. The degree to which an injury is severe will be determined by factors such as the amount of your medical bills, the type of injury you have sustained, and the length of time it takes for you to recover. Medical malpractice cases are complex, but you may be eligible for an injury attorney if you have suffered due to incompetent, careless, or unprofessional medical treatment by a medical professional. Toxic exposure cases are difficult to prove, because they depend on scientific data, but you might qualify for an injury attorney if you have become ill or injured as a result of exposure to toxic chemicals in the air, water, soil, food, or other products. Another situation in which an injury attorney can be helpful is if an insurance company refuses to pay.
The rates of an injury attorney will vary by the lawyer's rates and by your situation. Some factors that influence the fees are how much time is spent on a case, the outcome of a case, the difficulty of a case, the experience of the attorney, and the associated costs. The attorney might charge an hourly rate, a flat rate, or a contingency fee. A contingency fee is an amount agreed upon by the attorney and the customer that the customer pays if the attorney wins the case – about thirty percent of the settlement is average for a contingency fee.
If you feel that you have suffered injury because of someone else's negligence or wrongdoing, and you want compensation, it might be worth contacting an injury attorney for a consultation.